Written By: Contender Solutions
Most business professionals will remember their experiences during March 2020, specifically when the reported cases of COVID-19 dramatically increased in the U.S. The federal government declared a national emergency, and many states started issuing stay at home orders.
In a post-pandemic world where businesses are constantly evolving their operations to wow their customers while continuing to manage a remote workforce, C-suite executives are focused on the long-term vision of growth and prosperity. They're seeking a solution that will help their business stay efficient, secure, and profitable for decades to come.
The landscape of how businesses leverage technology is changing fast, as more solutions are being integrated into daily operations and automation is still a top priority. Thus, the age of IT transformation is in full swing.
What Is Digital Transformation?
The concept of digital transformation is simple: It's the process of leveraging the right technologies to develop new business processes and modify current ones while also building a foundation for creating a positive workplace culture and a top-notch customer experience.
In short, companies that adopt digital transformation strategies are completely reimagining how they engage with and support their customers. Technologies are evolving fast, providing plenty of opportunities for automation and simplification of daily operations.
Piecemealing IT systems with outdated processes is not enough to stay competitive anymore, especially as the pandemic revealed to business leaders in all industries the vulnerabilities that threaten the health of their enterprises. This is leading to a massive investment in fully transforming the role business technologies play in processes and operations.
In fact, global spending on digital transformation technologies is increasing by 6.2 percent, totaling $3.9 trillion in 2021. This increase is expected to continue into 2022 and beyond as companies look ahead to a more stable economy that can support revenue growth and expansion goals.
What Is the Goal of Digital Transformation?
To put it simply, leaders who invest in digital transformation are looking to equip their businesses with the capabilities to leverage the right data to stay competitive and evolve their strategies fast.
In the bigger picture, this requires a shift in mindset across all teams, including marketing, sales, and customer service. Employees across all teams need to consider how they engage with customers and, more specifically, how they can add value at every touchpoint of the customer journey.
With the right technologies and systems in place, leaders can empower all employees to accomplish this. And many companies are already seeing the results.
Executives say the top benefits of their digital transformation include:
Improved operational efficiency (40 percent)
Faster time to market (36 percent)
Improved customer experience (35 percent)
While there are plenty of moving parts in a successful digital transformation strategy, like getting full buy in from your team and improving collaborative practices across departments, the foundation of any effective adoption is the set of tools you use.
The Top 4 Digital Transformation Tools You Need
Setting your team up for success starts with investing in these essential solutions:
A Customer Success Tool
This is an obvious necessity because you need the right software to help your team effectively support your customers and help them address any kinds of problems or incidents they may experience.
With the right customer success tool, your customer service team can handle all kinds of initiatives that directly affect the customer experience, including:
Collecting and analyzing customer feedback via surveys;
Delivering customer education resources, like a knowledge base;
Managing ongoing customer communications;
Assigning and overseeing customer tickets for your team of reps; and
Automating customer feedback responses to properly route tickets to the appropriate solution.
Building a positive rapport is an essential component of any successful business. With the right software in place, your team will streamline how they manage their relationships with customers, which can increase levels of satisfaction, retention, and even lead to referrals.
A Workforce Management and Staff Augmentation Tool
No matter your current or future structure of how your workforce operates, you're going to need software that supports all your teams in how they communicate and collaborate with each other. As the pandemic disrupted U.S. businesses in 2020, many companies scrambled to support their distributed staff who adopted remote work.
Another common approach to business operations involves staff augmentation, which is the process of temporarily using outside teams to support the capacity needed for the organization to achieve immediate goals.
For example, small IT teams who are embracing their IT transformation project likely need the help of experienced professionals to support them as they mature through each level of IT transformation. Using staff augmentation services fills an immediate need quickly and helps organizations complete their projects efficiently and effectively.
Regardless of how your teams handle daily operations, the fact is that you need a workforce management software. The best kinds of solutions include the following features:
Workplace space management that allows teams to optimize room use in your office.
Knowledge management to simplify how documents and interactions are organized.
A self-service portal that employees can use to find the information they need.
This tool directly helps you manage labor resources while improving the employee experience, which increases productivity and retention while also improving the customer experience. The happier and more engaged your staff is, the better the service they provide to your customers will be.
An IT Asset Management (ITAM) Tool
IT asset management (ITAM) helps companies oversee the entire lifecycle of IT assets, which can include hardware and software. With the right tool in place, you can make the most out of your IT system, gaining full visibility across all stages of the asset lifecycle, from planning and implementation to updating and replacement.
In other words, you can optimize all the technology expenses tied to your cloud computing, hardware, and software when you develop an ITAM strategy and invest in the right tools to deploy it.
You want an ITAM tool that provides features to support your IT team in managing all their resources in one place. The benefits of ITAM software include:
Reducing tech spend by finding redundancies in IT resources;
Mitigating risks of security breaches and mismanagement of data;
Modernizing current tech stacks to improve efficiency;
Gaining full visibility of all assets for both cloud and on-premises systems; and
Maintaining high quality of business data using a

configuration management database.
Additionally, you can leverage your accurate, high quality data in robust reporting to help steer the direction of your strategies across all departments. This can help align all teams around your business growth goals.
An IT Service Management (ITSM) Dashboard
Delivering IT services fast is no longer a nice-to-have. In a world where customers expect quick responses, your IT service management processes need to be lightning fast and effective. This gives you a competitive edge in your industry.
With an ITSM dashboard, you're able to combine all of your IT services under one roof, running all of your operations through a single system of action. Ultimately, when you invest in ITSM tools, you want a dashboard that consolidates all your key information into one place.
This includes all your ITSM processes, including problem management, change management, knowledge management, and incident management. Your dashboard can effectively eliminate all the silos within your company where information falls through the cracks, supporting cross-functional collaboration and creating a great user experience for your workforce.
Additionally, you can leverage automation to simplify IT workflows. Some ITSM software provides AI-powered chatbots to automate specific initiatives and keep your IT team operating at their highest level of efficiency.
ServiceNow: The Best Comprehensive Digital Transformation Software
Instead of wrestling with disparate tools and clunky integrations, you can get all the digital transformation tools you need in one platform — ServiceNow.
As a leading software in the digital transformation space, ServiceNow is the go-to option for accelerating the development of a strong digital-focused culture. The ServiceNow platform brings all your essentials together under one roof, helping you digitize all aspects of your business operations, including:
IT workflows for unifying all your IT operations
Employee workflows for enhancing the entire employee experience
Customer workflows

for boosting customer loyalty
Creator workflows for building apps fast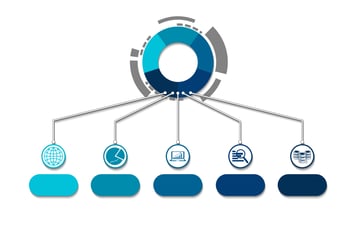 Leveraging all of these tools enables you to align IT processes and operations with your big picture vision, modernize the entire employee and customer experience, and streamline processes through automaton.
The best part: ServiceNow users can collaborate with certified partners who help with each step of set up and implementation. With the right partner, businesses can successfully deploy their digital transformation strategy and IT transformation (ITX) projects, while maintaining their operational efficiencies through managed services.
Learn more about how IT transformation is a critical part of your overall digital transformation strategy and see how it improves your profitability and supports your long-term growth goals